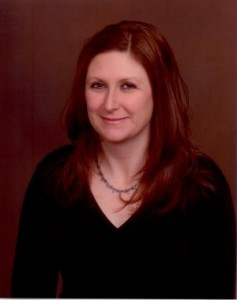 Brandy grew up in small town Iowa and after high school earned her license in nursing. It wasn't until years later she discovered her passion for reading. Devouring everything from mysteries and thrillers to sci-fi, it was her love of historical fiction that led her to begin dabbling in the writing world. With late nights, early mornings, and a third child just to make it a challenge, Brandy completed her first novel,
The Laird of Loch Fyne
.
Happily spending her free time writing, she continues letting her imagination roam, creatively thinking up new plots for future novels. With a second novel is well underway, The Laird of Loch Fyne is now available from Amazon (In Stock! Paperback, Kindle, & Marketplace), Barnes & Noble (In Stock! Paperback, Nook, & Marketplace), and direct from Tate Publishing (Paperback & eBook [Nook, Kindle, iPad, iPhone]). Always believing a story should have a purpose, Brandy is a true believer in the classic 'happy ending'. When not creating characters with broad ranges of personalities, she spends her time with her husband and three daughters, all of which are dear to her heart.
A Few of My Favorite Things
---
Authors
Books
Movies
16 Candles
Romancing the Stone
The Hangover
Boogie Nights
X-Men
Die Hard
TV Shows
Big Bang Theory
Modern Family
The Mentalist
Belief
Life Is What You Make of It
Wine Preference
Can't Pass on a Good Pinot Grigio
Love
A Good Thunderstorm on a Hot, Humid Day